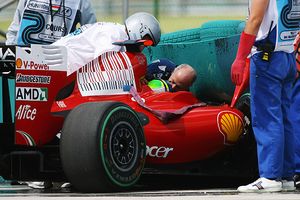 ((HT: ESPN/SI/CP))
PM UPDATE
: Officials say Felipe Massa is in "satisfactory condition" after emergency surgery on a "life-threatening" skull injury the Ferrari driver sustained in a violent crash in Hungarian Grand Prix qualifying.
The department of defence said that Massa would be kept in intensive care overnight at AEK military hospital following the successful operation.
"He is being cared to in intensive care and now he is in stable, satisfactory condition,"
the defence ministry said in a statement Saturday.
The 28-year-old Massa also suffered a concussion, but was conscious and in stable condition when he was airlifted to the hospital, Ferrari said.
Medical director Peter Bazso said at a news conference that "Massa's condition is serious, life-threatening but stable."
Bazso and chief surgeon Lajos Zsiros say they expect Massa to be awoken Sunday.
The 28-year-old Brazilian had surgery one hour after arriving at the hospital, the doctors said.
Massa was struck in the helmet by a loose part from another car and his car slammed straight into a tire barrier.
The original story follows:
Ferrari driver
Felipe Massa
has completed successful surgery after fracturing his skull in a high-speed crash at the Hungarian Grand Prix.
The Italian team says the 28-year-old Brazilian ((pictured, thanks Paul Gilham/Getty)) will remain in intensive care, although it does not know how long he will stay under observation. He was conscious and in stable condition when he arrived at AEK hospital by helicopter with a concussion.
The crash occurred Saturday after a spring had fallen off another car and flew up and struck Massa in the helmet. An apparently dazed Massa continued driving over a curb and across the track. He went through the gravel area alongside the Formula One circuit before striking a tire-lined barrier.
The pressure from the rear suspension part damaged the left side of Massa's helmet, ripping out the visor and leaving a long gash around the side of the helmet. Blood was seen above Massa's left eye, which was not damaged.
"Following a complete medical examination it emerged that he had suffered a cut on his forehead, a bone damage of his skull and a brain concussion," Ferrari said in a statement. "These conditions need to be operated on after which he will remain under observation in intensive care."
Rubens Barrichello, a fellow Brazilian, went to the medical center and said Massa appeared to be doing fine despite a cut above his left eye.
"He was in shock," Barrichello told The Associated Press. "Considering the gravity of the accident, I think he's in OK shape."
Massa appeared to regain control of the car just before the crash at turn No. 4 as his front brakes appeared to lock ahead of the violent impact.
Massa stayed in the car for a considerable time and it was unclear whether he required assistance in getting out, before he was taken away on a stretcher.
The front of his Ferrari was shredded, with both tires having come off and the front nose open.
The crash comes less than a week after Henry Surtees, the son of former Formula One champion John Surtees, died in an F2 race on Sunday. Surtees was struck by a tire from another car, causing him to lose consciousness and drive into a barrier.
Barrichello and defending F1 champion Lewis Hamilton said that safety needed to be reviewed following two freak accidents within six days.
The crash was also reminiscent of Heikki Kovalainen's high-speed crash at last year's Spanish GP, when the McLaren driver slammed into a wall at high speed. Kovalainen spent the night in a hospital with a concussion.
"What happened to me in Barcelona was a very nasty accident. But I think it was a pretty freak accident and I don't know how to prevent that," Kovalainen said. "It was very unfortunate. But I think we should discuss it."
Surtees' death led drivers to discuss the issue of debris and head safety at length during their usual pre-race meeting Friday.
Renault's Fernando Alonso took the pole position for Sunday's race after qualifying was delayed for nearly 30 minutes because of the accident.
Here's the replay of the incident, thanks to our friends at RTL/F1 Racing